Do you have a room that has served multiple purposes? I have one. It's been a playroom, a guest room, a craft room and now is an office. Though the carpet is only 2 years old, it's seen some things. Having a small child is a carpets worst nightmare. And truthfully, I hate carpet. I don't like the way it feels, I don't like the way it captures things (food, drinks, pet hair, and for the love off all things crafty… GLITTER), and I don't like way you can tell what is under it. Did you really get the mess cleaned up or is it still living below in the pad. After months of working in this carpet filled room working everyday, I was over it. I knew I didn't want to replace the whole house just yet, but wanted to get a non-expensive alterative to my newly renovated office.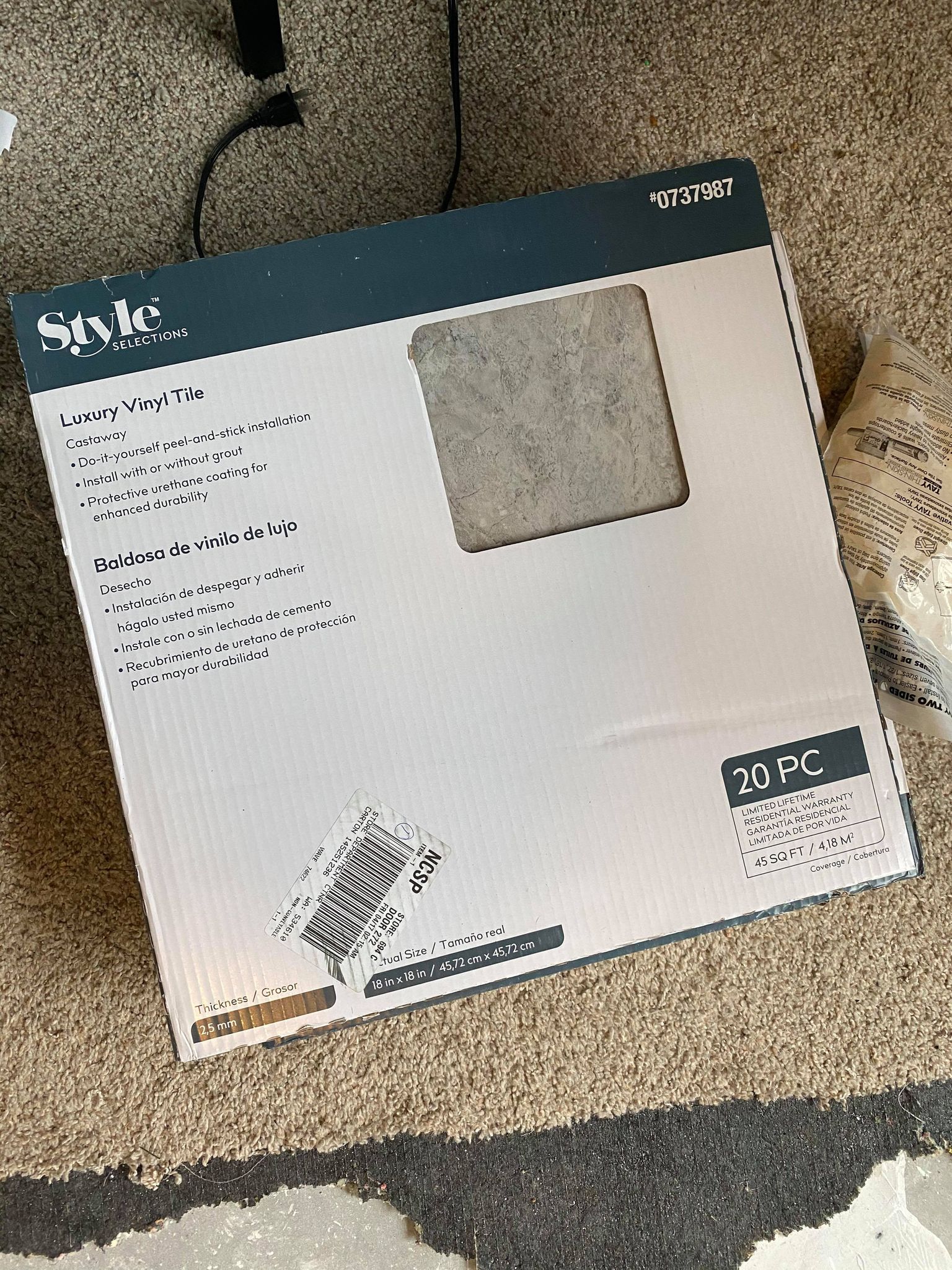 After doing my normal walking around Lowes, I found something caught my eye. A 18-in x 18-in Groutable Castaway Peel and Stick Luxury Vinyl Tile. I must state that I am not a tile fan either. Basically, I only like vinyl. If you are a pet owner, a mother, or just a messy person in general, vinyl is your friend. It looks like real wood or tile, but it is super easy to clean, waterproof, and it doesn't crack when your son chucks his "flying car" across the room.
There was one word in the title that honestly scared me… Groutable… The only time I had worked with grout was when I was removing tile. So shout out to the Lowes employee who walked me through how to use this pre-made vinyl tile grout. Since I was only doing a room that is roughly 10x12 feet big, I knew I would need much. He also made a great suggestion that I use smaller grout spacers allowing an even smaller surface area to be grouted. I can't emphasis how important these spacers are, these are what keep you aligned and spacing even throughout the whole project. A few miscellaneous supplies you will need is a bucket of water, a rag, a box cutter, and a hammer.
Now that you have all of your supplies, you will want to remove any furniture from the room. You also need to decide what you will do when it comes to the closet. Since I didn't really know what I doing, or how this would all turn out, I decided that I would leave the carpet in the closet. I did how ever cut it a in line with the door frame so as the door is shut, you cannot see the carpet. Then I placed the tile under the carpet allowing the carpet to overlap the tile. Ok, now that the closet is out of the way, let's focus on the room.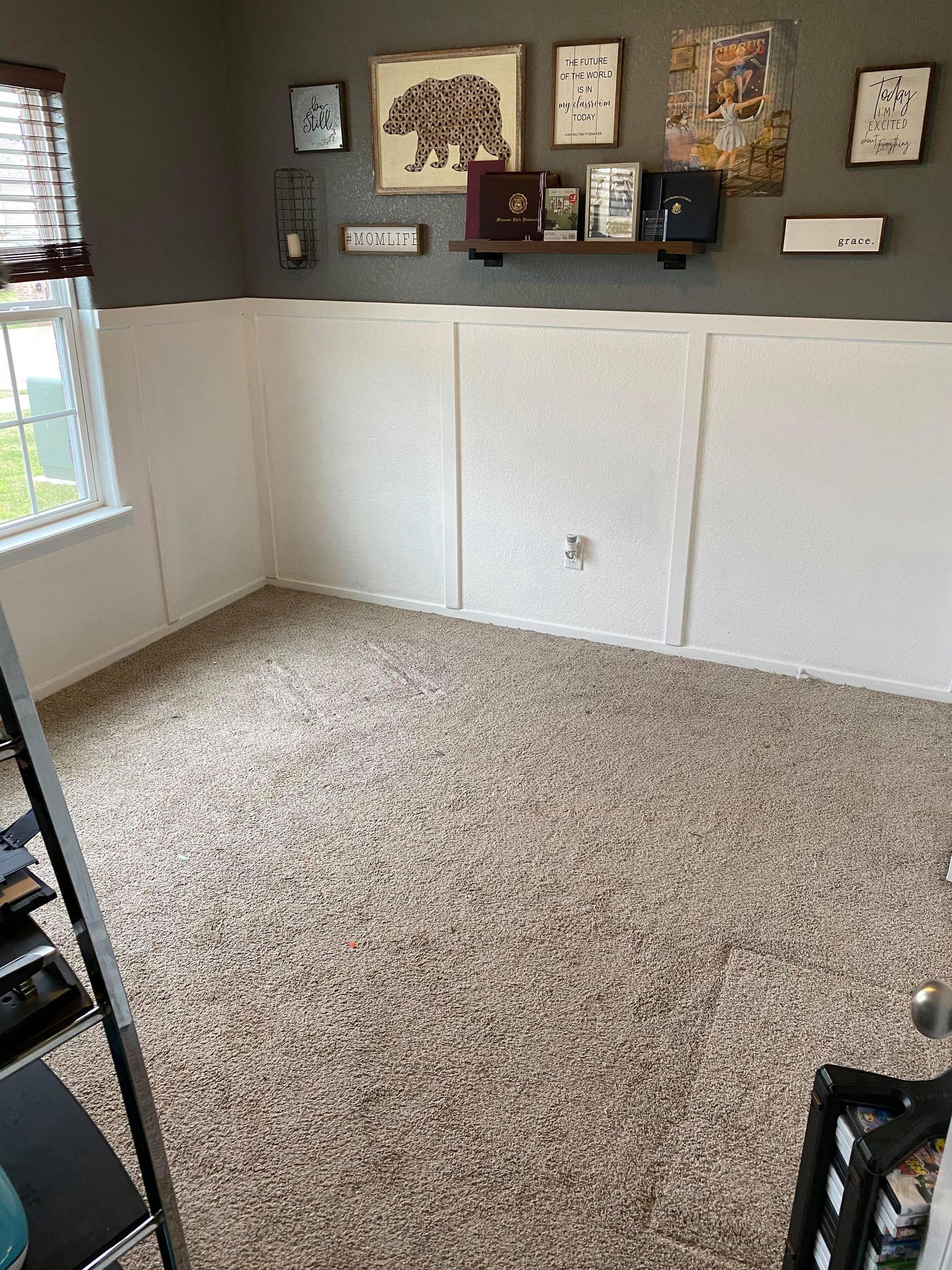 Time to remove the carpet! My best tip for removing carpet, is do it in sections. Carpet can be very heavy. You will have to take more tips when loading up the discarded carpet, you back will thank me later. Once the carpet is removed, you have to remove the tack strip around the room. This is where the hammer comes into play. I used the hamper to peel up the tack strip and to remove the nails that the tack strip was attached with. When it comes to vinyl tile, it is ok if there is a small amount of the concrete foundation that is removed with the tack strip. The most important thing to remember, is that you don't want to have anything that goes above the concrete foundation because it will make the vinyl lay funny and probably cause bubbling. Once you have safely removed all of the tack strips, it is time to do a little house cleaning… no, literally, we need to clean room. Yes we did just get started, but this step is so important, to my point before, if the room is not swept and vacuumed, little pieces of left over carpet, tile, or concrete your tile will be uneven.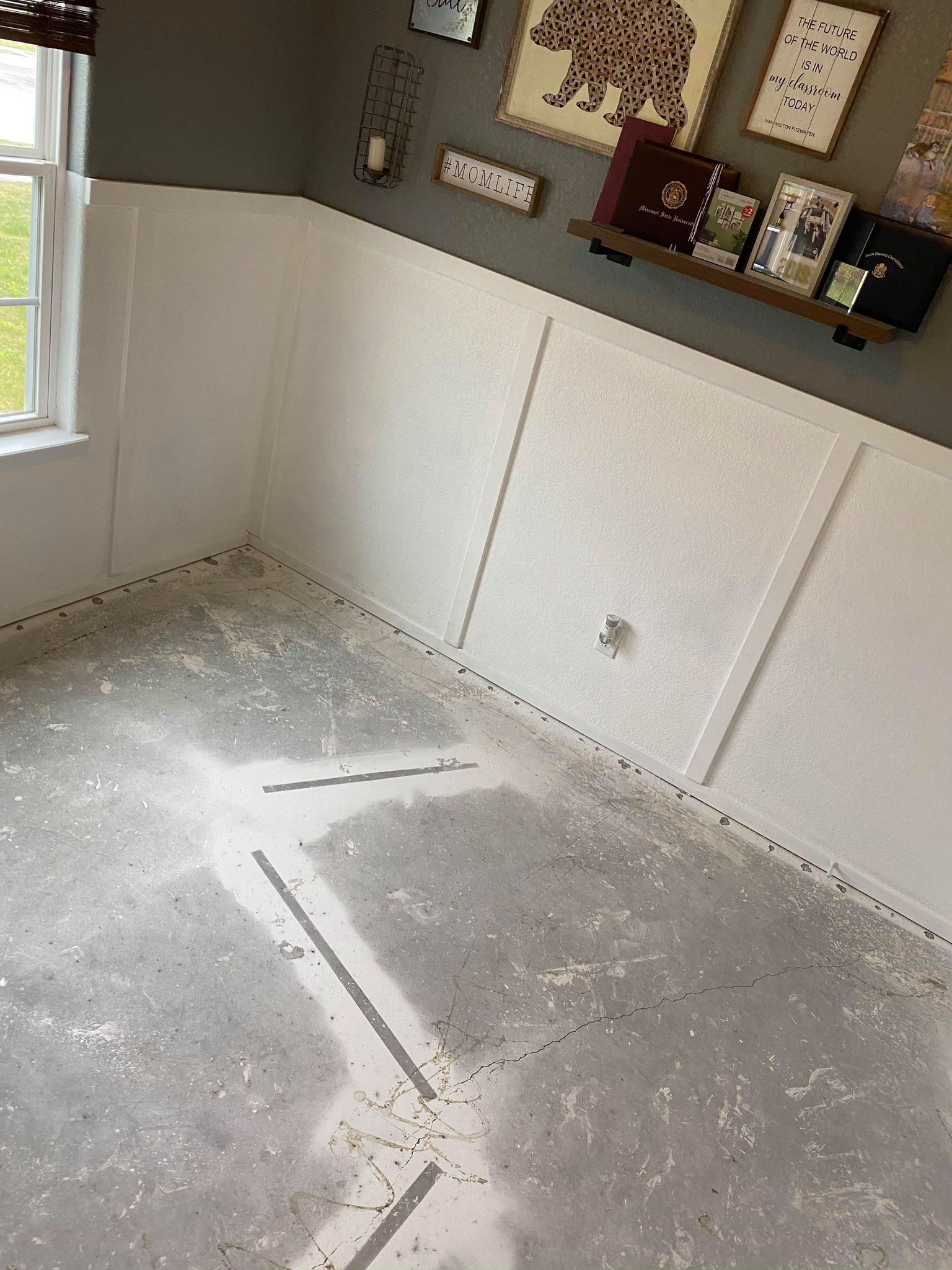 Once the room is clean, it is time to bring in your supplies and begin laying the vinyl tile. Knowing that I would need to let the room settle a bit once I was completed, I worked from the far-left corner to the right over and over until I reached the of room. Once I had worked throughout the whole room, I grouted in the line between my office and the living room to just finish it off with a seamless transition.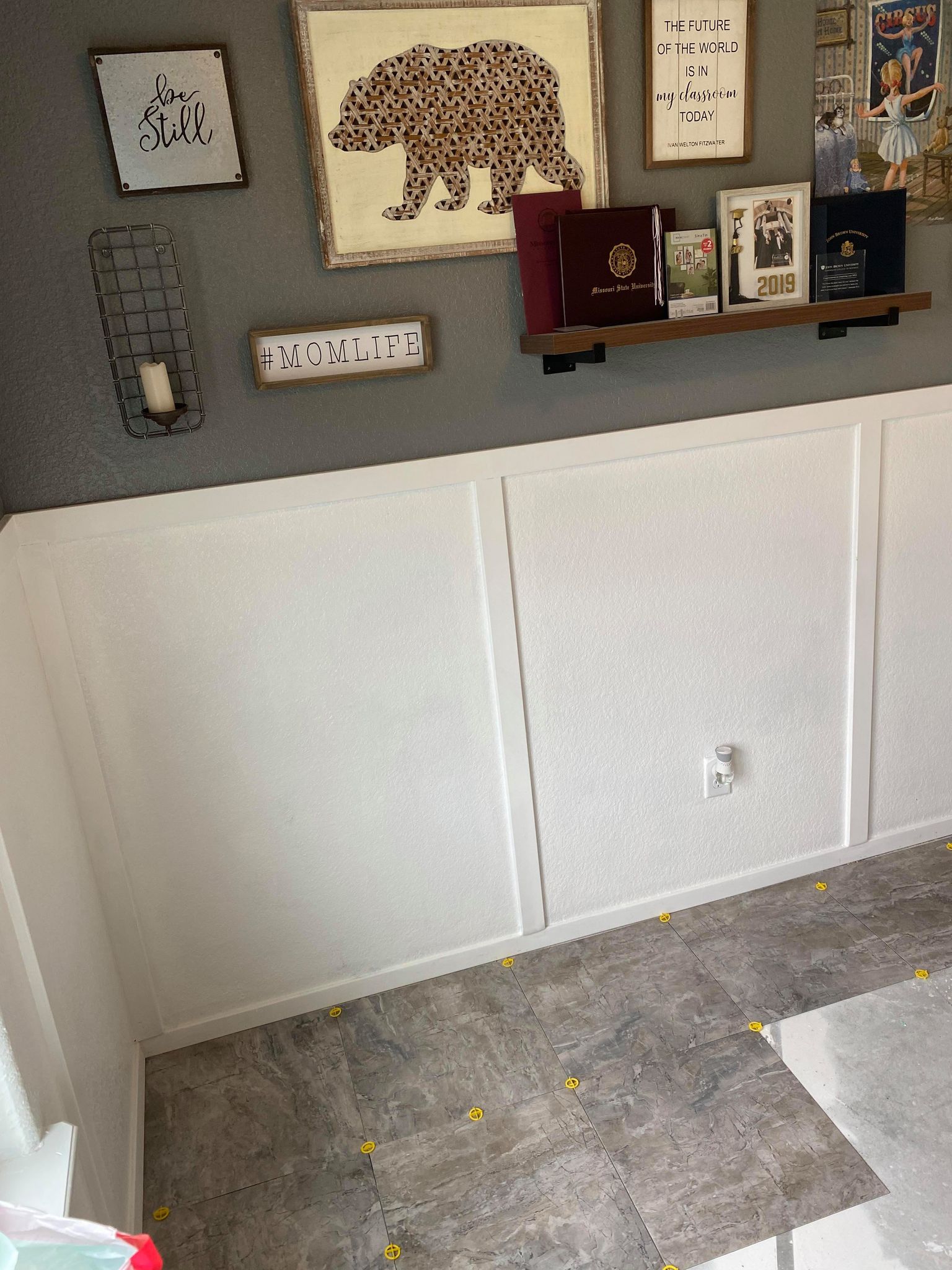 Keep your bucket of water close and use it often. Once you lay the first few tiles, you will want to wipe the excess grout from the tile. Once you wipe down your first couple of rows, you will get a feel for how quickly the grout is setting and repeat the cadence throughout the room.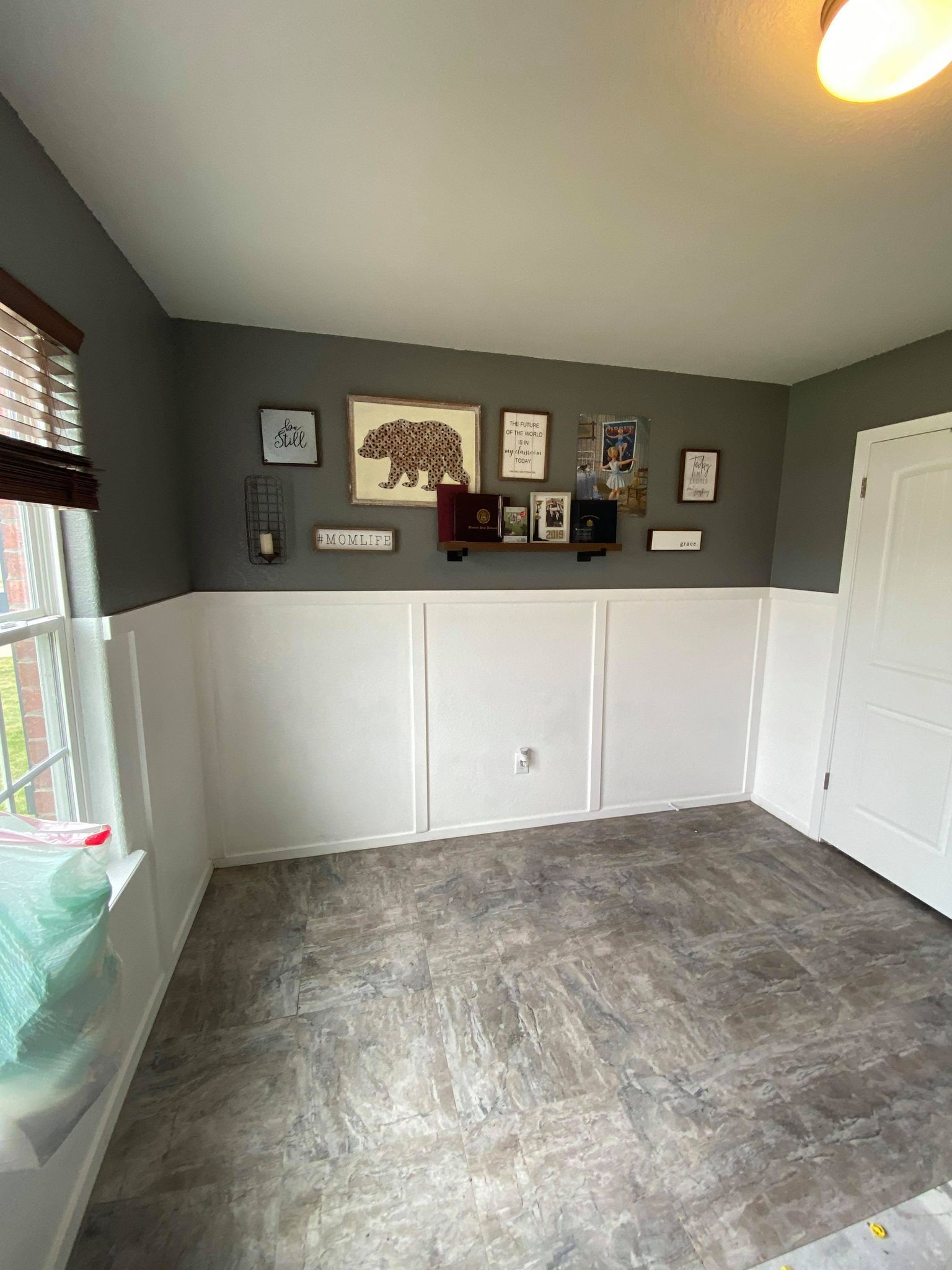 Once complete, let the floor set for a few hours and then you can add the furniture back into the room. Please note you cannot mop/Swiffer the floors for a few days, just to make sure the grout is settled and ready to be cleaned.